Get all your meditation resources in a row by starting a book collection! Nowadays, we can go on the Internet for all the info we need, but it's easier sometimes to just reference a book that's nearby.
Here we have rounded up a few great books you can use in your meditation journey. We've also discovered a wonderful eBook product, 15 Minute Manifestation, that should be quite helpful as you meditate each day.
You will surely find these resources helpful, so be sure to click the links and check them out for yourself. Let's get started.
Practical Meditation For Beginners
So you want to get into meditation, but you don't know where to start. That's OK! We all have to start somewhere, and this book is going to have all you need to begin the journey. You can master the practice of meditation in just 10 days.
The book gives you a step-by-step blueprint in getting a foundation of knowledge going about different types of meditation. For example, it is possible to do walking meditation, and this book can certainly show you how.
You will learn about body scans and different meditation practices such as Zen. By learning the basics, you can find one that works for you and expand upon it. There is a 10-day program for 10 different styles of meditation. You spend one day learning about each type.
Here's what you can expect:
Helpful writing prompts to record your thoughts, feelings, and ideas using a notebook
Instructions that are easy to follow and will help you engage in the techniques listed in the book
Easy to reference, well-planned information that is easy to locate if you need it again.
Not only is the book incredibly well-written and fun to read, but customers also love it, too. This is a great, non-intimidating way to start meditating and enjoy yourself along the way.
---
The Daily Meditation Book Of Healing
Do you enjoy daily challenges that keep you held accountable? If you love doing one small thing for yourself that benefits your mind, body, and soul, consider grabbing this book. It offers a daily suggestion you can use to treat yourself right, without spending a ton of money or taking up too much of your time.
This book is a great aid in addressing stressors in your life such as trauma, anxiety, and emotional trouble. Affirmations are positive and very encouraging without being overly cheesy or silly.  You will enjoy reading these and you will feel inspired, too.
It's easy to discover why a few minutes of mindful meditation each day matters with this book. You will learn that you have some incredible potential inside of you and that we don't all have to be big-time celebrities, millionaires, or geniuses to make a difference in our world.
This offers much more than some other books we've seen. Here's what you get:
A year's worth of healing: You can use daily meditations that are positive and realistic to heal.
Wisdom: No matter how old you are, the information in this book is helpful without being preachy or pretentious.
Help with recovery: Whatever it is you're healing from, you can move closer to inner peace with this book.
---
Practicing Mindfulness: 75 Essential Meditations To Reduce Stress, Improve Mental Health, And Find Peace in the Everyday
This book is the one that you will want to keep on your shelf long after you've learned the basics front to back and given your "beginner" books to a friend or family member to try out.  Inside, you will find many different meditations you can use to calm your soul and mind, and in turn, reduce your stress.
These short meditations will help you stay grounded and be present in the moment. You will also learn better ways of practicing kindness and gratitude.
It's OK if you have never meditated before. If you are an absolute beginner, don't think you won't be able to get into it. These meditations are welcoming and a pleasure to do. You'll feel right at home with them.
If you are looking for a specific kind of meditation, rest assured this is the book for you. You can use the table of contents up front to flip immediately to the correct chapter and begin working on that exercise.
The exercises are realistic in time limits, especially for our busy society. The exercises take just 5 to 15 minutes to complete. Whether you are sitting at home, or outside where it's quiet, or anywhere you can have some time to think, you can meditate and in turn improve your mental and spiritual health.
---
Meditations on Self-Love: Daily Wisdom For Healing, Acceptance, and Joy
If you would like to start meditating because you need to love yourself a little more, this is going to be the book for you. By loving yourself, you can achieve happiness because you believe in your abilities to get whatever you want and need to feel content. Positive meditations are an easy and free way to do just that.
These are self-love meditation practices that can be done each day. The improvement you notice will be staggering and you'll be very proud of yourself once it's all said and done.
You can use these techniques as often as you want, and you can do them in any order. If a practice seems a bit much for one day, go to the next one and come back when you feel ready.
The author, Laurasia Mattingly, writes in a manner that is relatable, gentle, and easy to understand. She is honest and compassionate, and she clearly speaks from a place of knowledge and understanding, which is why we simply had to include it on our list.
The practices in this book can be done in a matter of minutes each day. Even if you don't feel you have any time to yourself, still pick this up.  You can and should make time to understand your power and worth!
---
15 Minute Manifestation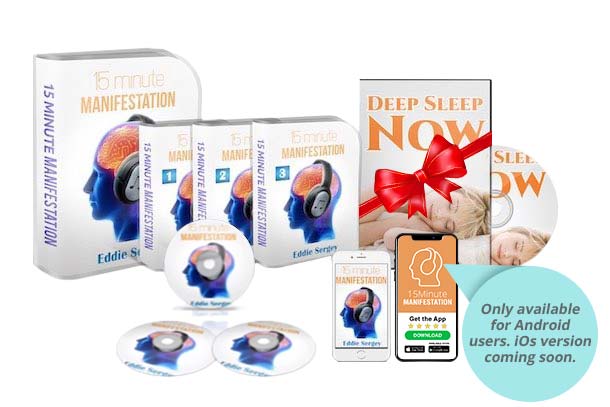 Eddie Sergey is the author of this program, and as you may have already guessed, it's a self-improvement program designed to help you accomplish the goals you've set, banish your money problems, and be your personal best.
The guide is sold in the form of a PDF and uses the power of sound to help you tap into the deeper parts of your brain, all to modify your thought process.
Sergey states that by listening to the illuminating and carefully designed sounds, which are crafted with various frequencies, we can work with our brains to change our thought patterns in ways that will help us achieve financial, personal, and romantic success.
The Three Tracks
Three audio tracks are used in the course of the program, and they give off theta brainwaves as a means of rewiring the brain's cognitive functions and thought processes. The website states that it works based on neuro-feedback (Neurofeedback is a sort of bio-feedback, that teaches self-control of the brain function to the subjects by taking a measurement of brainwaves and then offering a feedback signal).
As a result, it offers a positive influence on your behaviors, emotions, thoughts, and ability to make smart decisions. Each track, states Sergey, is 15 minutes long and one should listen to it as a means of promoting positivity in their life and getting rid of stress, sleepless nights, as well as negative thoughts.
Track 1: Your Natural State
This track is given to you in MP3 format. You can load it up on your phone or another device to play while at home or in the car. It is a track that is designed to help you unveil your true potential and work through the barriers your mind has set up, to help you become virtually limitless in what you can do.
You will use this track to establish a positive mindset and attitude. It will help you achieve your goals much faster when you have a mindset that's positive.
This is a binaural sound just right for meditation and uses the sound of Tibetan singing bowls to help you relax and enter a mindful state. You will find it very easy to close your eyes and imagine a peaceful place.
You will find that your mind establishes it for you. (For this author, the peaceful place my mind created was the side of an indoor swimming pool- swimming has always been a means of relaxation!)
At first, you might notice the binaural beat sound, but as you close your eyes and relax, you will find that you don't really notice it after a while.
The idea is to listen to each track for 7 days, for a total of 21 days.
Track 2: Your New Story
This is another 15 minute, MP3 track that is designed to teach you how to whip your mind into shape. That is, you will teach your mind to evaluate and create your new reality.  Your mind will say, "I am innovative, smart, and creative. I can take old ideas and make new ones. I am the future and I'm going to pave a path to it!"
The ideas is that by coming to this track after a week of listening to track 1, you are ready to see what you DO NOT want from your life. You are going to remove old, negative thoughts from your brain and begin to rewrite your own reality.
You will learn to bypass the chains of life that hold you back, such as self-doubt, fear, or worry. Instead, you will take small steps to work toward dreams, hopes, and goals that you would like to become reality.
Track 3: Path to Abundance
Once again, we have a 15-minute audio track that will teach you how to live with your new mindset. Remember, you're going to be a bright ray of light in a world of gray, so you have to learn how to live with it.
You will also find that even though your mind is working toward a place of positivity, creativity, and self-love, there are going to be forces that try to pull you back into the cycle of negativity and self-doubt. This chapter teaches you how to avoid this nonsense and stay on the path of positivity.
This track is the culmination of your meditation thus far. You will zoom in on the thing you want most, and you will think about nothing else for that 15 minutes. Essentially, you're manifesting what you want!
In sum, you will strengthen your resolve to continue working hard and breaking free from fear, self-doubt, and negative forces that are encouraging you to stay down instead of going upward.
What You Will Learn From 15 Minute Meditation
How to break free from restrictions our mind places on us in life that hold us back from getting what we really want.
How to recover from a low point in your life and make a big comeback
How to overcome fear, self-doubt, negativity; how to deal with people around you telling you that you can't do it
How to tap into our brains and become the person we were always meant to be
How to be productive and perform at your best each day in terms of goal achievement
A Great Bonus Is Included
Yes, you will get the three helpful audio tracks, but you will also get a nice bonus, too. Just what can you look forward to, exactly?
Deep Sleep Now is a fifteen-minute, Delta-brainwave frequency that removes anxiety and tension from the body and helps you sleep. This could be very helpful for those of you that cannot sleep, or are so excited about your newfound abilities you simply cannot rest!
So, does it work?
That's entirely up to you. If you believe in the teachings of the program, it can work for you. If you have any doubts, it is likely you are going to struggle and fail to get the results you want.
The audio tracks are quite relaxing and a real joy to listen to. Will you really get what you want after just a week, as the main product page implies? Well, that MIGHT happen, but very big goals/dreams are going to take much longer than that to come to fruition.
The main purpose of this program is to erase years and years of negative thoughts that have been building in your head and replacing it with the idea that it is possible to get what you want. You're worth it, and this program shows you that you CAN get what you want.
Persistence Is Key
Remember, you have to be persistent in your meditation practices, whether you're learning from a book, 15 Minute Manifestation, or something else. If you don't believe in the practices, or you think it's a bunch of malarkey, you're not going to get the results you want.
You can do this, and you can become the person you always wanted to be. But to get there, you need to be in the right mindset. Meditating on what you can do is one way to slowly but surely turn the tide and show yourself what you can do. You will be amazed!