Do you remember your school days? I do, even if those memories are becoming a little hazy (don't tell anybody I'm admitting it – I'll deny, deny, deny …)
I used to rush home, get half-undressed, fall backward onto my bed, stare at the ceiling for a while, and then reached for a spiral-bound notebook.
This notebook was my friend, my keeper of secrets, my confidant in matters of love and hate, my depository of insecurities, my record of growing up – it brought me SUCH relief from the wriggling and squirming of trying to make sense of life as a teenager!
Then, I stopped using it. I don't remember when. I don't remember why. Maybe life just became less filled with angst. I don't know. But I'm sorry I did.
There was a sense of honesty and naivety in the way I wrote about my experiences then, that I wish I could find again.
But journaling is making a comeback, and it's for grownups too now! Pinterest boards are filling up with ideas for journaling, themes to explore in your own journaling journey, how to start, what to write, and even what color ink to use for whatever category of your life you're exploring in an entry. BAH!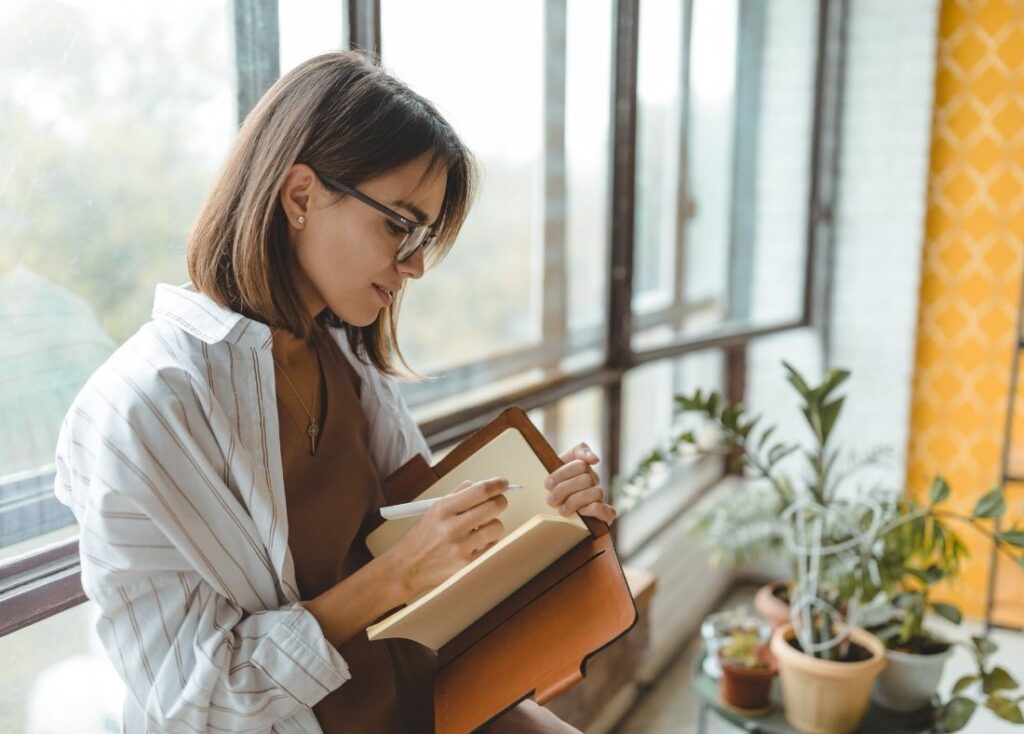 I kid you not! Back then, when the earth was flat and animals could speak, journaling was a cathartic experience, something to alleviate the diamond-forming-pressures of teenage existence.
The new incarnation of journaling-for-adults is different. Boy, is it different!
It begins with questions such as: "how should I do it", or "what should I write about", or "am I doing it right!" BAH! Again!
Ludicrous, the human being's propensity for taking something so simple and turning it into something so hellishly complicated.
Journaling may be more important for you now than it was then
Turns out, if you can overcome the angst about getting rid of your angst through journaling, the mental and physical health benefits of journaling are drawing the attention of mental health practitioners around the globe. And for good reason.
Psychiatrists, psychologists, and research academics at top universities are conducting studies that are proving and have proven journaling to:
Reduce Stress (remember your teenage years and the spiralbound? It wasn't called stress then, but come on, it was the same thing …)
Boost your immune system
Keep your memory sharp. (What was I saying again?)
Give your mood an upwards boost
Generally, make you more emotionally resilient – more capable of catching and handling the curve-balls life tosses in your direction
So, there's really ample evidence out there that your teenage self maybe knew a thing or two about life that you may have forgotten. And that you should pay attention to.
In the end, journaling is all about exploring your deepest feelings, fears, anxieties, thoughts, and more. It's about reintroducing you to … well … you!
Drumroll and enter technology
Somehow, after sacrificing the naivety and spontaneity of our teenage selves on the altar of adulthood, getting back into journaling can be challenging. And those angst-filled questions we ask about what to write, or how to start, or whatever, are relevant. We're just so much more inhibited now.
Thank heavens we have technology now. What in the world did our teenage selves do without it!
Sure, you're still going to need dedication and a sprinkle of discipline. But there are apps on the market that will help you to do that. They will prompt you and prod you in the nicest ways possible to get you going and to keep you going.
We've tested a handful of those journaling apps, and they all have strengths and weaknesses. We've selected the best ones we could find – the ones we think will bring your adult self the relief your teenage self-found in the spiralbound.
Why is a great journaling app great?
I'm old school. It's in the way I prepare food, in the way I raise my kids, and even in the way I fight with my husband.
So, it goes without saying that the transition from pen and paper to keyboard-and-screen, especially when it came to writing down my most intimate thoughts, was filled with peril and anxiety.
But I overcame, as we do, and in the end, I'm really very happy with the convenience of the app I now use. Above all, because it's on my tablet, I have it with me all the time. It's so easy, when inspiration strikes, to take out the tablet and jot down a thought.
And, nobody's ever the wiser!
Above all, I love the ability to include pictures in my entries. Back then, a photo was a cumbersome thing that involved scissors and glue. Now? Well, I don't need to explain.
And a picture speaks a thousand words. Especially if the old memory isn't what it was …
The journaling apps that made our list had a couple of features in common:
It was easy to make entries
The interface was, well, appealing, making it pleasant to use
You can set reminders, and the app has built-in reminders (to help get you into the habit)
If you fall out of love with the app, or you want to try something different, you can export what you've done. And, if you are trying the app for the first time, you can import what you did on another app
You can sync across devices, and back up to the cloud
Most of them also have a whole host of other handy bits to them – things like password protection (no more hiding the spiralbound under the mattress), the ability to add multiple pics to an entry, location and weather, and of course, prompts for when you're in the habit but stuck for words.
So, here goes!
Our top choices for journaling apps
1.   Day One (Mac, iOS, watchOS, Android)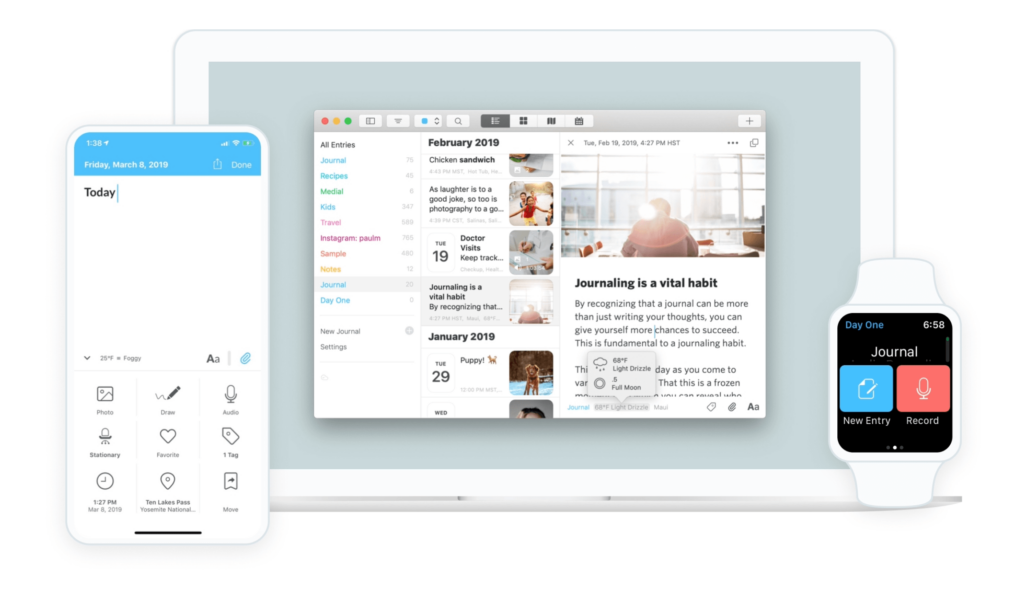 Day One has been around since back in 2011. It's been Apple's Editors' Choice a few times, and generally, it is one of the most recommended journaling apps on the web.
The features are great – everything you need to transition from your spiralbound to your tablet or phone.
One-click entries
Templates galore
Automatic metadata
Hashtags
Insert pics and even videos
You can format entries in Markdown
More – too many to mention individually, but check it out
Their design is also great – blue, with menus and icons in gray. Sort of minimalist. It makes your journaling, not their design, the most important thing, and we liked that.
We liked the ability of Day One to customize and add multiple reminders. Most apps are limited to one reminder per day, but Day One prompts you as many times as you want – in the morning, at lunchtime, at the end of your workday, and at bedtime- whichever way you want to set it up.
We specifically liked that because it creates the ability to keep track of your thoughts and feelings during the day, and then to assimilate it into an entry when you sit down to journal.
There is a free version and a paid version.
The free version is pretty comprehensive – you can do everything except sync. Your pics are limited too. You can't handwrite your entries or make audio entries either, and you're not able to keep multiple journals.
For those features, you'll need a paid subscription. Which is $2.92/month when billed annually.
2.   Diarium (Windows, Android, iOS)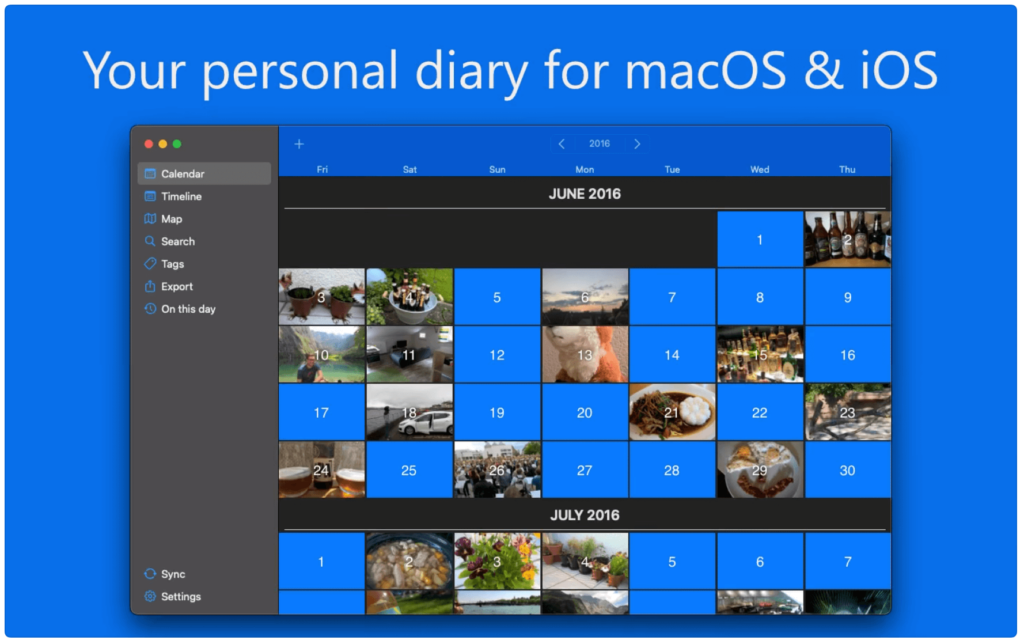 Right now Darium is the top-rated journaling app in the Windows 10 store. Darium is (in our opinion) the best journaling app for the selection of media types it supports.
Prefer to speak rather than type – sure, Darium's got you.
Want to attach an audio file? Again, Darium's your app.
How about an ink drawing? Yup.
Or other, more obscure filetypes? Yes, again.
You can rate your own journal entries. This facility had us scratching our heads a little. Why the heck would you want to do that? Until somebody suggested we use that as a happiness tracker. And it works!!
Syncing to Windows and Android devices is easy. So is exporting to DOCX, HTML, RTF, and TXT formats.
The syncing between Android and Windows was instant. And it's reliable. No little ghosts in the machine with this app!
We also loved Darium's ability to access and assimilate Twitter, Instagram and Facebook feeds.
The app reminds you once a day that you should be making a journal entry.
Darium has a free version available. On Windows 10, the paid version is $19.99, and on Android, it's $2.99.
3.   Journey (Mac, Windows, Linux, iOS, Android, Web)
Want a journaling app that seamlessly works across platforms and devices? Journey's probably what you want then.
The app's features rival the best on the market for all platforms. Best features include:
The way the app supports multiple images
Audio support
Video support
Multiple format export
Auto location
Weather information (customizable)
Journey is completely non-judgmental. It plays beautifully with other apps. Import entries from other apps (Day One, Diaro, Daylio, or Evernote) and other devices (Mac, Windows, Linux, iOS, Android, and web) without a glitch or headache.
You get access to Journey with your Google account, so all your journal entries are automatically stored on your Google Drive. No worries there!
As far as alternatives to Day One are concerned, Journey is probably the best. The interface is similarly streamlined, but it offers you a dark mode too. You also have the option of purchasing a one-time license if monthly memberships aren't your thing.
The paid features include:
Unlimited entries using email
Email reminders – every day if you want them
Automated entries using Zapier
This will set you back $2.49/month.
There are free versions of Journey available on Web, iOS, and Android.
The price is $19.99 on both Windows and Mac.
4.   Penzu (Web, iOS, Android)
A journal entry on Penzu is a little like creating a blog post in WordPress. The interface is WYSIWYG (what you see is what you get), and it has a comprehensive toolbar for formatting text.
The obvious question is: why not simply use Evernote or Word for keeping your journal?
Well, for one, Penzu keeps all your entries together and organized in an online journal. Customizable email reminders help you to keep your journal up to date.
And, Penzu is big on reminiscing! It will send you reminders of previous entries, just for old times' sake!
Penzu's strongest suit is privacy. Special passwords (separate from your account password) secure your content like Fort Knox (128-bit encryption), and you can auto-lock your content at any time. For us journalists, this is a wonderful facility!
If secrecy is really your thing, Penzu will also guard your content with 256-bit encryption, as the military uses, but for that, you'll have to subscribe to the Pro-Plan.
So, Penzu is about keeping a journal like you would a blog, but private.
If you want additional features such as tagging, you'll have to open your wallet for the Pro plan, though.
Penzu has a free version and the paid version prices from $19.99 per year.
The future ain't what it used to be
I looked for my old spiralbound collection when I started exploring the apps for this article. But, alas, I forget which box they're in, or even if they're at home or in the storage unit. I'd love to read them again.
Obviously, had the apps we looked at existed back in the day, and if my teenage rebel-self used them, boxes and attic-searches would have been redundant. Information now lives forever, safe from fire, rust, and moth.
What is yours now, will be accessible to your grandchildren someday, if you so wish. Just imagine – generational wisdom and knowledge as we've never known it before.
In one short decade, everything about the way we do things has changed. The future is just not how it used to be.